Your Inspiration
I recently returned home from two and half years in Fiji. I had been working on education and construction programs with indigenous communities and I wanted to fundraise enough to build a vocational centre for young people.
It was a bit of a strange one to explain to people as I walked around the path but people really engaged with the idea.
I got a lot of support from the communities in Fiji and I think the idea of providing opportunities for underprivileged young people resonated with people in Wales.
I also wanted to add the Offa's Dyke Path so that I could do the full perimeter of Wales. I live in the village of Rhoose (which is the southernmost point in Wales) so I was able to walk from my front door all the way around the country and back again.
I had also been out of the country for a while and had been following the progress of the path and the stories of those who had undertaken the whole thing. When it came to choosing a fundraising challenge it seemed to be a perfect fit; it would give me an opportunity to reconnect and better understand where I am from and it would be a big enough challenge to justify our fundraising target.
Start date: 01/07/15 (from Rhoose point heading west)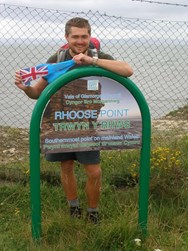 Finish Date: 25/08/15 (back at Rhoose point!)
High Points
I made it to the top of Dinas Head in Pembrokeshire as rain clouds opened up. Everyone was running down from the headland as I was walking up to the top. It's probably the place I've most visited on the coast over the course of my life and by the time I got to the top I had it all to myself. It was lashing down and I was listening to "Won't Get Fooled Again" by The Who.
I don't really think that it lyrically applied to the situation but jumping around in the rain (essentially losing it for a few minutes) was one of many weird and unusual moments on the walk.
At the end I was met by friends and family plus a brass ensemble and a bongo player. In fact, the strange and unusual was consistently the best dimension to the walk. I didn't take many pictures or set myself a list of things I wanted to see or do, I just went with the flow and enjoyed the quirks of the people and environment that I was in.
Low Points
I developed tendonitis in my right foot about 100 miles from the end. I knew it was something that would only go with rest. It really took the edge of the end by causing me to limp slightly. Other than that I simply learnt to love the rain.
My Lightbulb Moment
I learnt a lot about the nature of endurance and how much the mental side matters in something like this. I also got an amazing sense of time and space which means I now freak out slightly every time I see the BBC Wales weather map. You'll not tire of telling strangers how far you've walked and how much of the country you've seen.
Finally, if you try and do it solo and in a quick time you will find that sometimes you'll be dependent on the kindness of total strangers to help you out. They never let you down.
twitter: @trekforfiji