Will Renwick
Will Renwick - the youngest person (age 22) to walk both the Wales Coast Path and Offa's Dyke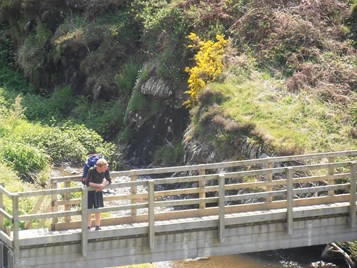 After graduating last year, when I learnt there was a path that ran past my house and around my entire country, I ignored my parents' calls to choose a career and instead became fixated on taking on the 1000 mile+ journey. It was a chance for a real adventure; a chance to get out into the elements and to explore my own country while doing so.
I had to wait out the long winter, desperate to get going and finally on April 16th, fooled by a bit of sunshine, I packed up my rucksack and began my journey - right from my front door. 63 days later, exactly 9 weeks on, I returned back where I started, having walked around the entire perimeter of Wales, with a pretty good tan considering a large part of the walk was through 'the coldest Spring in 50 years' and in healthy shape despite living largely off instant noodles and Welshcakes.
I chose to go anti clock-wise from my home in Llancarfan on the south coast, first taking on Offa's Dyke with its mountains, canals and castles, then joining the Wales Coast Path and following it all the way back home.
I was tested at times, mostly and unsurprisingly by the Welsh weather but also by my boots; the sole of my first pair wearing right through! Another more unusual problem for me were bugs, they somehow always found a way into my tent... and food. I once found a slug in my biscuits only after I had eaten half the pack.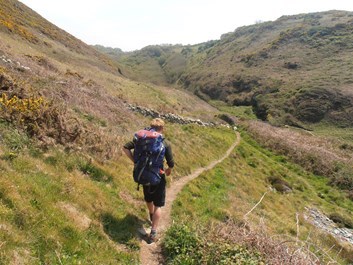 Yet even on days blighted by bugs, blisters and rain I was still able to appreciate the beauty of some of the places I passed. Anglesey is a wonderful island and until walking around it I was completely unaware of the scenery to be found there. Its coastline changes dramatically, almost around every headland. Then there are the little coves of Pembrokeshire, the water perfectly clear (but deceptively cold), the stretching sands of the Gower and the looming presence of Snowdonia towering in the distance as you skirt the northern coastline. Along with the views there are the historic attractions: the path seems to take in every castle in Wales, and journeys past the surreal village of Portmeirion and Dylan Thomas' little Boat House; a place I unfortunately couldn't stay long as I was aware of the smell of my soggy boots quickly filling the cottage.
To walk and camp solo for two months sounds quite a lonely thing but it wasn't at all. Yes, some days I spoke to more farm animals than people but overall I met so many friendly locals and walkers, all curious to know where and why I was walking. I received incredible acts of kindness; having families take me in and cook me breakfast, people giving me places to stay and many a pint on the house!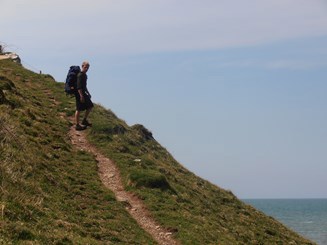 Favourite memories are coming across a group of pilgrims heading to Bardsey Island and joining them on their walk across the Llyn Peninsula, sea swimming when the sun was out (mostly as it was an opportunity to wash), evenings spent watching the sun sink behind the sea and drinking with locals in the many fantastic seaside pubs.
It wasn't a particularly normal thing for someone my age to do, perhaps most might choose to go to Thailand or Australia etc. Wales is renowned for its unforgiving weather and I understand the desire to go away but I knew that there was an adventure to be had at home; something that was raw and really testing and that I could be proud of completing.
It shall remain 'that weird fact' about myself for the rest of my life!
I tweeted pictures as I walked and they can all still be viewed by going on my page @WillWalksWales. I am also still blogging about certain aspects of my walk at Will Renwick.