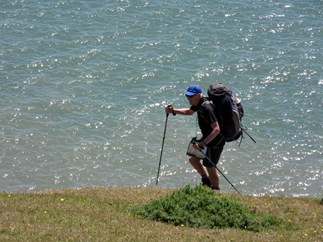 The Challenge
My story begins with a holiday in North Wales in 2013 with my wife and friends.  We noticed the new signs for The Wales Coast Path and on our return to Gloucestershire I discovered all about it. 
Knowing I was to turn 65 in January 2014, I decided it would be a great thing to do to celebrate my retirement. Walking north to south was the chosen direction and I decided that I should walk on my own carrying all I would need on my back. 
I had not camped for over 40 years!  The plan was to walk the route in one go, however, three months before my planned departure in mid May 2014 we decided to move house; my wife Margaret and I agreed I should start walking and if needed I would return home to help with the move! 
Five weeks into the walk having reached Llanrhystud, just south of Aberystwyth, the call came to return home.  I returned to Llanrhystud in May 2015 and reached Chepstow five weeks later.
High Points
The whole walk was an amazing, a never to be forgotten experience for a variety of reasons:  My own sense of achievement, living simply for ten weeks with everything I possessed on my back, the people I met along the way, the acts of kindness and encouragement I received, the sheer beauty of the route – the flowers and birds in particular and of course the sound of the sea in my ears for such a long period was fantastic. 
It was with a mixture of excitement and trepidation that I began the walk having taken a train to Chester.  Only 400 metres beyond the official start alongside the River Dee I met Ieuan from Machynlleth who was also beginning the walk, but he planned to achieve it in small stages as time off work allowed. 
We exchanged details and with a throwaway 'maybe see you in Machynlleth' we went our separate ways.  Little did we know that four weeks later we would be having a great time over a pint in the Black Lion in Machynlleth sharing experiences. 
The low point
My first week ended with me in hospital in Bangor for a night.  A dramatic collapse in a café at Cemaes on Anglesey saw an ambulance called and me and my backpack whisked off to Ysbyty Gwynedd.  The nurses and doctors provided tremendous care and following many tests the conclusion was that I was not eating sufficient food to sustain me given the miles I was walking!  I took the following day off and took a bus back to Cemaes to thank the café staff and continued walking.
Best Bit
My favourite section of the walk was from Caernarfon to Porthmadog; dramatic scenery, beautiful bays and lack of people provided wonderful days walking.  The whole route of course holds the fascination of wondering what beauty lies just around the next headland, what culinary delights that night's pub might serve up.
I was also fascinated to walk through the refineries and gas terminals around Milford Haven and the docks of Swansea, Cardiff and Newport, someone has done an amazing job of plotting the path through these industrial areas. 
Each and every day my diary records something special, it would take a book to describe everything I saw and enjoyed!  I am happy to be contacted for more information at robert.carruthers@care4free.net
Guardian Angel
In conclusion I must describe a wonderful act of kindness shown me by Alison from Castle Farm campsite at Angle. It was the 1st June 2015 and unseasonal hurricane force winds and rain were forecast. I walked from Pembroke to Angle that day and reached the campsite early in the afternoon by which time the wind was howling and rain hitting me in sheets.
I was attempting to erect my tent when Alison appeared and told me to use a mobile home she owned as she considered it impossible to camp that night. The rain thundered on the roof of the rocking caravan all night, whilst I enjoyed a night of luxury. Alison was my guardian angel that night.