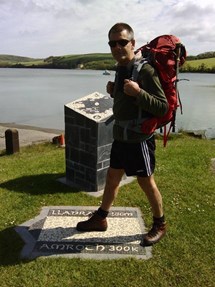 Name: Ian and Gail Roberts
Your Inspiration
Having holidayed in St David's, Pembrokeshire with my family over the years and enjoying the beautiful local walks in this area, we always aspired to one day walk the Pembrokeshire Coast Path.
When we finally committed to it and achieved this goal, we couldn't help but want to explore further and the idea to walk the entire Wales Coast was born.
Start date
We started out in St Dogmaels on 21 May 2015 to walk the Pembrokeshire Coast Path and arrived in Amroth on 3 June 2015. Determined to push on, we travelled back to the Cheshire/Flintshire border later that summer to begin the Wales Coast Path journey.
Finish Date
We crossed the finish line in Chepstow on 6 October 2017. Ecstatic, tired and sad all at once, we reflected on our journey in the sunshine with a celebratory drink at the Riverside Wine Bar. I'm sure many other walkers will find themselves celebrating in this same spot by the river.
High Points
The Pembrokeshire coast is nothing short of magical and we've seen much more than we ever hoped. The remote beaches, rugged cliffs, charming villages, the colours of the water and flora, the wildlife and people we met along the way all made this part of the walk an amazing experience.
We cannot recommend this walk highly enough!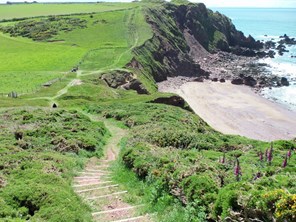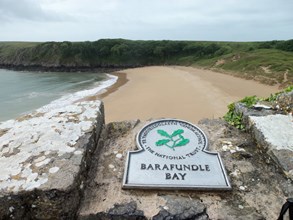 Every region has something to offer whether it is the large stretches of beaches on the Gower Peninsula, the dolphins and seals in Cardigan Bay, the remnants of the industrial past, the grand promenades and piers at Llandudno and Penarth or the hustle and bustle of Swansea and Cardiff Bay.
We were lucky to see views and have experiences along the coast path that would inspire and impress any walker.  Every day on the Coast Path was a new and exciting adventure and that was the most enjoyable factor.
Low Points
Blisters and wet feet. There were some days when the weather was a challenge and some days we couldn't enjoy the views to the full due to mist, fog or rain.
In some of the more remote areas, trying to find public transport to use was hard, especially on Sundays and bank holidays. This sometimes limited how long, where and in what direction we could walk due to the timetables.
Our Lightbulb Moment
Finishing the Pembrokeshire section of the walk and realising we didn't want the journey to end there.  Deciding to swap the tent for a touring caravan made the experience all the more enjoyable and the walk has introduced us to a variety of new sites that we will visit again. Finding Blister plasters!