Your Inspiration
It was during a rainy Sunday afternoon working in Caerphilly Tourist Information Centre that I had my 'lightbulb moment' as a box of Wales Coast Path leaflets were dropped on my desk. The rest is now history.
I have always loved the great outdoors, and I felt pained by the realisation I hadn't discovered enough of Wales. I set off on my mission to walk the Wales Coast Path and Offa's Dyke Path combined on Monday 8th June 2015 from Cardiff Bay. My adoration for mountains meant that there would be a third pillar to my challenge: to climb Cadair Idris, Snowdon and Pen-y-Fan en route.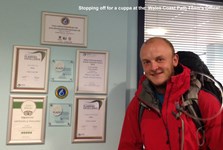 As well as a desire to explore Wales on foot, there was something else motivating me. Ever since the amazing Velindre Cancer Centre in Cardiff had treated two of my grandparents, I wanted to do something to say thank you.
Start Date:  8th June 2015
End Date: 29th August 2015
High Points
It's incredibly difficult to pinpoint any areas above others as highlights. Pembrokeshire has a deep rooted connection to my family history and it was a real joy to discover every inch of this National Trail on foot.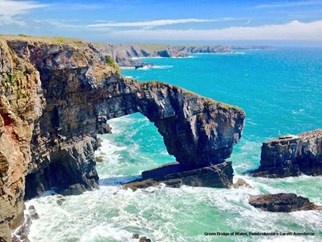 St Govan's Chapel and the Green Bridge of Wales on the southern coast were absolute treasures that I had never previously experienced! Walking through Pembroke Dock on the Cleddau Estuary was an emotional moment as it was the location of my grandfather's posting during World War II.
Whilst Pembrokeshire's rugged coastline was one of familiarity, Anglesey's epic coastline was one of absolute awe and beauty that came by total surprise. During my time on the island I wrote the following:
"Anglesey is the mistress of tricks and the mother of deception. As you walk her coast she's like a temptress. She'll lure you in with her beautiful bays, beaches, inlets and cliffs before slamming the door in your face with industry like the port at Holyhead or Wylfa Power Station. Then, once again, she'll show you more of her majestic beauty.
Just as you reach a point where you think she has nothing left to give, she leads you around the next corner onto yet another jaw dropping scene, making you realise: the beauty you have only ever dreamt of actually exists here in Wales."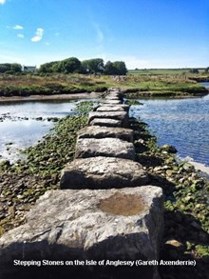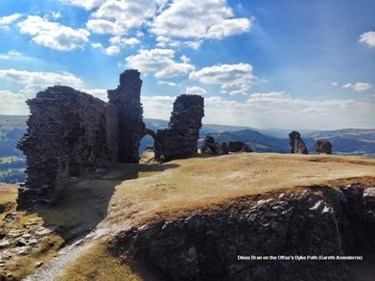 The Offa's Dyke Path was equally as inspiring and beautiful with Dinas Bran, the Pontcysyllte Aqueduct and Hay on Wye real treats! I would be lying if I said it was one big walk in the park, but there were no lowlights. Spending every day walking around the heaven that is Wales was an absolute pleasure!
My Lightbulb Moment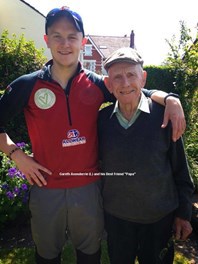 My walk culminated with my final footsteps into Cardiff Bay on Saturday 29th August having walked 1,164 miles. Unfortunately, just a month after meeting him at my finish line, my grandfather Garfield passed away at the grand age of 91. My walk has been a vehicle for raising nearly £7,000 for Velindre Cancer Centre so far. To me, it will always be my personal way of celebrating friendship with my best friend and favourite Welshman.
Every blog from the 83 days I spent walking around Wales are compiled at http://garethswelshwalk.wordpress.com