Dave Quarrell
Dave Quarrell - first walk of both Wales Coast Path and Offa's Dyke Path National Trail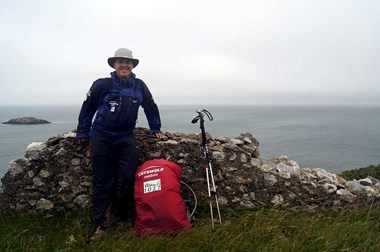 At the opening event in Cardiff Bay on 5th May 2012, Arry Beresford-Webb handed me the official Wales Coast Path baton. This marked the end of her epic run, and the beginning of my own very long walk.
My Dad, Gerry, led the Welsh Government unit that established the Path, and as a keen walker himself, he had great enthusiasm for the project. Sadly, he died from stomach cancer aged just 56, almost exactly a year before the Path opened. Shortly after he passed away, I decided to walk the entire Path in his memory - and because Dad always complained if I did 'half a job', I thought I'd better join up the two ends via the Offa's Dyke Trail. I aimed to raise £20,000 for Cancer Research Wales.
I went clockwise around Wales, with the exception of Anglesey where I swapped directions. I walked six days a week for 12 weeks, arriving back in Cardiff Bay on 26th July, which would have been Dad's 58th birthday.
The best bits
Born near Cardiff and having lived in Wales almost all my life, what amazed me was the sheer amount of my home nation that I'd never visited. They say that your brain is 'made' to absorb memories at walking pace, and for me at least, that's absolutely true. There are so many fantastic places that I 'discovered' along the way, and when I have children, I know we'll never be short of spots to escape to with a tent on a sunny weekend.
I was very lucky that I had some great support along the way - not least from my wife who drove hundreds of miles to meet me every weekend - but also from many complete strangers, including nearly 80 pubs, B&Bs, caravan and campsites who helped with accommodation. The warmth and friendliness of people at every corner of Wales, and their willingness to help a smelly, damp bloke with a big rucksack, will always define this experience for me.
I had lots of great wildlife encounters - watching gannets diving just offshore near Aberarth, lapwings at Whiteford Burrows, puffins on Skomer (we caught the boat across on a day off), terns at Cemlyn Bay and meeting a badger near Manorbier. The spring flowers in Pembrokeshire, particularly around Marloes and St Brides, were breathtaking.
I'm interested in military history, and the Welsh coast is littered with relics of past conflicts, from 13th-century castles to 19th-century Palmerston forts and Cold War nuclear observation posts. It's fascinating to see how nature gradually reclaims these locations, and also to watch the modern-day military on low-flying training or tank gunnery exercises on the coastal ranges.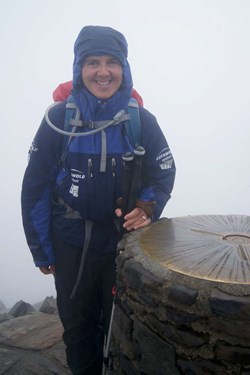 It's impossible to pick a favourite place, but if I had to name a few top spots then I'd choose St Justinian near St David's for a stunning sunset and great camping; the whole of Anglesey for a week of wild coast with no two days the same; the hillsides near Llwyngwril for an awesome panorama of Snowdonia and the Llyn; and Port Eynon for a fantastic Youth Hostel on the beach, tucked away at the tip of the Gower. And for a pleasant surprise, try Bullwell Bay near Rhoscrowther oil refinery - a short walk through old woodland, a stone's throw from the tanker terminal. It's prettier than it sounds!
The worst bits
With hindsight, choosing to walk Wales during the wettest UK summer for 100 years was probably not the wisest idea. Ceredigion was hit by severe flooding on the day that I arrived in Aberystwyth, and the following day I had to skip an 8-mile section of the route beyond Borth because it was under several feet of water - I went back later in the year to re-do this bit. The next day I got a few funny looks from fire crews and police as I wandered calmly through a village that had just been evacuated due to concerns that a reservoir might breach its dam. On the plus side, anyone following the same route in future years is statistically very likely to stay drier!
I had a few navigational nightmares, partly because in a couple of places the path wasn't quite as finished as it looked on the map (all sorted now!) - but my worst error was all of my own making, when I arrived in Pwllcrochan, near Pembroke Dock, to discover that the accommodation I'd arranged was at a different Pwllcrochan, about 30 miles away near Fishguard!
I walked most of the route on my own, and I had a bit of a psychological wobble on the northern Llyn peninsula near Nefyn. This is a wild and isolated area, and after walking a whole day without meeting a single person (and with more than a month's walk ahead of me to the finish), I started to feel very lonely. The scenery is beautiful though, and later that evening I stopped to listen to seals 'singing' on the rocks - a truly memorable moment.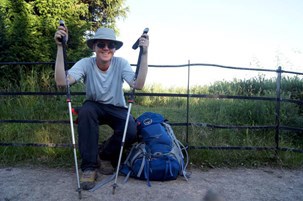 Also, I don't recommend switching directions like I did around Anglesey. After 650 miles walking on a leftward camber, the change to having the sea on my right gave me agony with my ankles for the first three days!
The end bit
I finished my walk as scheduled on 26th July, having covered about 1100 miles once you take into account a few detours such as climbing Snowdon on the way past. Walking Wales was by far the most awe-inspiring, perspective-changing experience of my life. So far I've raised about £11,500 for Cancer Research Wales.
For more information, visit: www.walkwales1027.com.